INTRODUCTION:
Ezra Arthur, named after the co-founders' deceased Grandfather—rest his soul, is a leather goods manufacturer based in Phoenix, AZ. I recently had the opportunity to create and pitch a brand strategy for short and long-term growth. Herein, I explain the brand strategy and a bit of the marketing strategy. And I share some of the materials I've written and produced to pitch the ideas to Ezra Arthur. HINT: It's all about boldly, gracefully, and carefully putting words in the late Ezra Arthur's mouth. The writer's job is to conjure things he might have said.
Not every Product Ad is designed to sell just that product. Some product ads drive curiosity about the brand. This print ad uses one of Ezra Arthur's most expensive items to telegraph the story that they're making some of the finest products in the world. 
While researching the brand and its competitors, I realize their Google Search Results are better than any company could hope for. It's a golden opportunity if you can drive a curious audience to search for "ezra arthur," which is served predictively after a few keystrokes—one finds Ezra Arthur and then a series of retail outlets, each with their own really strong copywriting to sell the brand. Just below the fold, Google serves "reviews" all of which are 5-star for Ezra Arthur. All the brand needs to do, is drive people to search for the name. Considering the fact that literally everyone has a super-computer-search-engine in their pocket, and they're all running out of things to use if for (abandoning social media), getting people to search "ezra arthur" should be easy.

Because very few people have heard of Ezra Arthur, a simple name recognition marketing campaign would elevate awareness and drive curiosity around the brand. My suggestion for EA was to start locally and expand into new markets where they can get added retail traction—a challenge faced by every manufacturer. My strategy includes ideation around creating brand ambassadors by refining and publishing their "lifetime guarantee" language and living into all of it as a pillar of the brand promise. The strategy also included press releases, both for local media around the local organization and for national media around product releases. And I also suggested how they should revive all of their social media efforts to align with the new marketing efforts. Every word of copy, every post on social media, every ad, and every insert should feel as though it was written by Ezra Arthur himself. From this stage, the personality they want the brand to have will depend on the personality they deliver through the voice of the man. 

I suggested, as a marketing strategy, they split their budget between IMAGE ADS, which simply put the "RIGHT words" in Ezra Arthur's mouth, and PRODUCT ADS, which feature individual products. A brand awareness campaign is emerging now. Some "tone of voice" examples from a slide deck are shared below.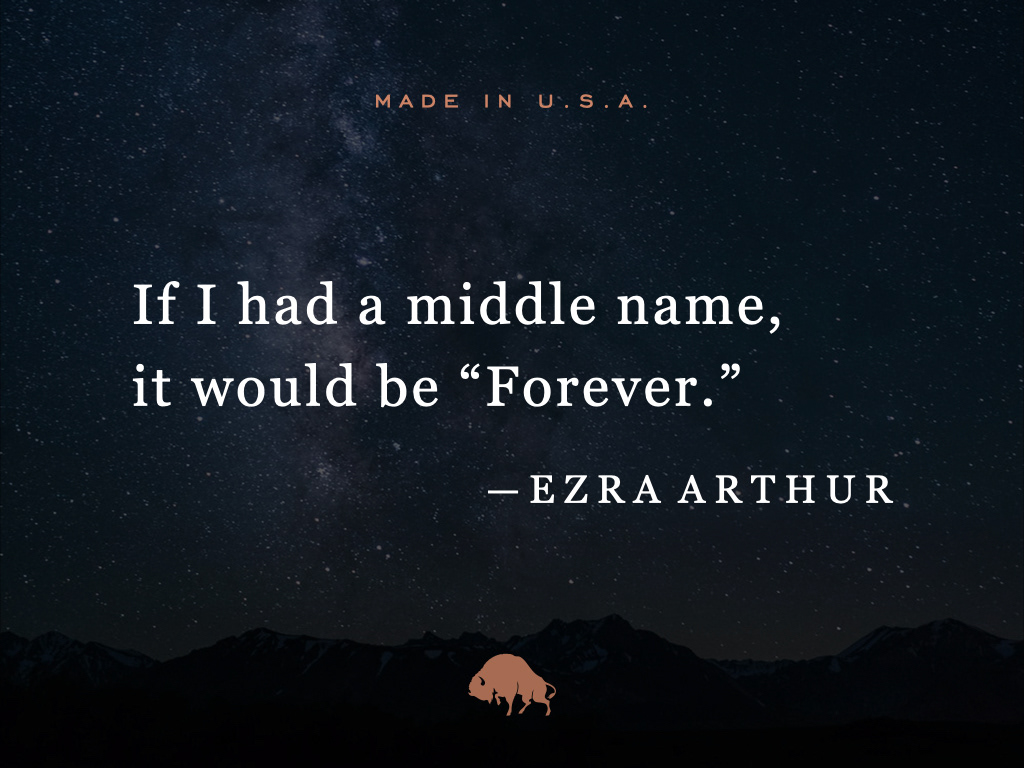 I also suggested a full refresh of all product inserts, a free media they're not currently taking full advantage of, as well as print and outdoor advertising. Some examples are shared below:
Wallet INSERT:
About 75% of Ezra Arthur's wallet sales are to women buying gifts for their men. I figured if you want to ensure the man LOVES the wallet, you have to give him the opportunity to exchange it for one he selected himself. So I suggested every wallet that leaves the factory should have an insert that reads "if you discover it isn't perfect for your needs, we'll take it back and exchange it for any wallet—or gear—you would prefer." I wrote the copy on the front of the card to come from the voice of Ezra Arthur: straight-forward, humorous, and someone we'd all like to meet. Of course, the headline contains the product benefit: longevity!
Product INSERT: eg. Wallets
Theoretically, not a single product should leave the factory without a product insert. Whether that's a promotion with a discount, or a simple message to manifest brand loyalty, every product leaving the factory is an opportunity to raise awareness around the brand.

This insert card was designed to be used in the products that leave the factory, en masse. Ezra Arthur contracts with promotors who purchase 20-40,000 wallets at a time. These Wallets are typically used in high-end "gift baskets." They sent the first 40,000 out before realizing they were missing an opportunity and since started putting coupons in the wallets. My suggestion? Lose the "image" you're using on the front of the card and replace it with a message from Ezra Arthur.
This "project" is a work in progress. Please check back for more about Ezra Arthur in the coming months and years.