Corporate Rates:
are negotiable and range from $100-$250 per hour depending on the length of the commitment
Small Business Rates:
are negotiable and range from $25-$50 per hour depending on the size of the business 
Project Fee Basis:
send me an RFP and I'll let you know how I can help and how much it should cost 
Curriculum Vitae:  

[10 minute read]
Thank you for learning about me. I have been accused of many things ranging from having a "Midas touch" to being "a challenging individual;" because of this, I lean toward small teams and short term projects (1-4 months). I am currently considering long-term roles. Please use the references link at the top of the pages here to talk to real people about me. Next to that is a link to review all of this information in a bullet point resumé.
While I spend my free time creating Pop and Abstract Art, I am an award winning art director (brand propagandist), and an iconographer—an art form that is still wildly undervalued. Iconography is visual propaganda. Creating and helping teams identify powerful propaganda and iconography are two of my greatest strengths. While they are sadly no longer regarded as having much value, my hand skills are incomparable. 
I was born in Torrance, California and raised up 100 miles due east in a place known as Joshua Tree. My grandparents owned land before imminent domain encroached on the people in the area. One by one the public sold their lands to the government to preserve what would become the Joshua Tree National Monument. I literally grew up inside the Joshua Tree National Monument. I wonder if Trump is trying to make that privately owned again?
I graduated High School with my first 'title' "Class Clown." And then went off to San Diego State University where I launched into adulthood studying to become a dentist. Then one day, when I was 19, something paranormal happened. That's a story I'm telling in a novel I'm writing called "If You Don't Shake Off Your Funk, The Space Aliens Can't Take You To Nirvana." It's a autobiographic collection of true stories that will challenge your ability to believe a single word that I say. 
The point of that story is that the course of my life was changed dramatically overnight. I switched all of my classes to art classes and I chose to abandon becoming a dentist. I'm pretty sure if my parents could change one thing it would be this.
Later that year, I dropped out of SDSU after visiting the Art Center College of Design campus in Pasadena, California. I got into Art Center on the first try. I took a few years for me to graduate and that's another long story, however in the middle of my junior year I was awarded a full scholarship by the Ad Club of Los Angeles. I graduated three semesters later, tied with a class mate for top of the class with a 3.85 GPA. 
Since then, my life has been a series of wins, pretty much like that one. Thought they're getting harder and harder to manifest, because now I no longer work for just anybody. I pick and choose who I work for. If I'm hungry I bend a little, you just have to be lucky and catch me when I'm hungry. Or be prepared to pay.
I think my favorite gig so far in my life was Instructor at the Art Center for almost 4 years, starting seven years after I graduated.
A series of other wins in chronological order would be recognition from The One Show and Communication Arts for work created at Mad Dogs & Englishmen and Kirshenbaum and Bond, two boutique ad firms in New York City where I worked for a total of 2.5 years for clients as diverse as Citibank and The Village Voice. Next came recognition from MoMA, NY for an independent film I Art Directed in 1995. My official title was "Production Designer," for anyone who is not familiar, that's the boss of the Art Director and the Costume Designer. Production Designers stand with the Director, the Director of Photography and the Editor as the 4 people responsible for the creative aspects of a film. Seth Michael Donsky's indie 35mm film "Twisted" is a permanent resident of MoMA, NY where it also has my name on it. And this would become "my first resident" in MoMA, NY because 10 years later I co-wrote and Art Directed a Nike commercial which also became a MoMA resident. But I'm jumping ahead and this is supposed to be chronological. Seven years before the Nike commercial, in 1997, I co-wrote and Art Directed a TV commercial for Taco Bell, which specifically was named as one of three commercials that year to earn TBWA/Chiat Day "Agency of the Year" by Adweek. I worked for Chiat for almost 2 years and when I left, (I got fired for something silly), I swore I would never do advertising again. I had my fill. I chose to focus on paintings and my own personal I.P. In 1998 and '99 I began inventing things.
The first thing I created were 7" tall anatomically correct stress-foam "fertility idols," I lovingly named "SexToys - the connecting toy for adults." I've been asked to remove them from websites when I work for people because they are risqué. If you want to see photos, they're at the bottom of this page here on this site: http://scottjbailey.com/original-art-and-reproductions-for-purchase-or-license - I was offered a chance to distribute these in Canada and in Australia and I passed. I am interested in making inexpensive Pop Art, but I want to make things that will be cherished for years to come, never pitched into the trash. Stress toys lean toward becoming that. 
These days I take trash, cereal boxes, and I reconstruct them into Cereal Box Crucifixes; their message is to wake us up to how much consumerism has become our true god; they try to remind you to be mindful of your carbon footprint. And they try to remind us to beware of our own conspicuous consumption, lest we be led astray. 
Next I created a children's toy I named Swiggle, the 21st century tinkerthing. Swiggle is sort of like a plushie tinkertoy. The connectivity of the parts of the toy earned me a utility patent: #6491563. The toy was reviewed by the biggest players in the industry, a few on multiple occasions. A subsidiary of Hasbro had enough interest to request it back a second year, to determine if they should manufacture it. To this day, it is only a prototype, but it has seen the world and been to burning man several times. I have a lasso made of Swiggle with 30 LED rainbow lights, that becomes a rainbow lotus flower opening up, if you take the right drugs and have an open mind. I've performed in the streets of Guanajuato, Mexico, to an audience of 30 or 40 beautiful people. That was an absolutely lovely experience. I am so blessed, it's hard to even imagine how much so.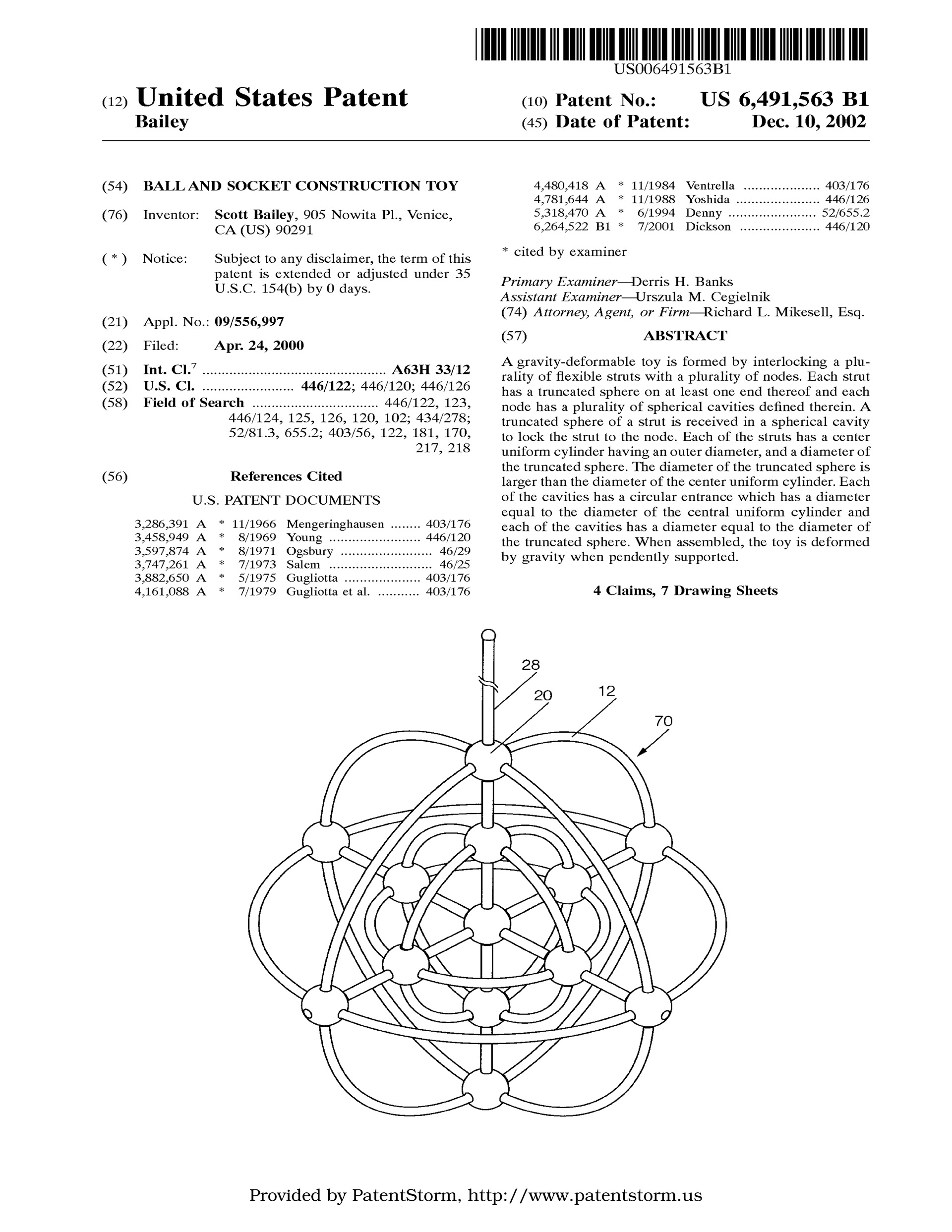 After that I created the art for several other games by my friends Nicholas and Rebecca Cravotta Bleau. One started as Crosswise and later became Quirkle. The other started as Tide Pool and later became something I can't even remember now. And though I have 50% ownership for both of these titles, I have not seen a penny for my work. Be careful who you trust and get EVERYTHING in writing.
About this time I created Kaleid-i-Pod, the analog version of what would later become Kaleid-o-vision. I was awarded another utility patent, #7399083, this one for a "kaleidoscope that attaches to a video monitor." The original product had interested manufacturers, however apple was blowing past the first video iPod with plans for touch screen iPod and iPhones. A very short time later, the original concept seemed outdated and I began envisioning Kaleid-o-vision, a touch screen kaleidoscope app. It's pretty badass. I bring a version on my iPad for in-person interviews. I project kaleidoscopic videos at my parties.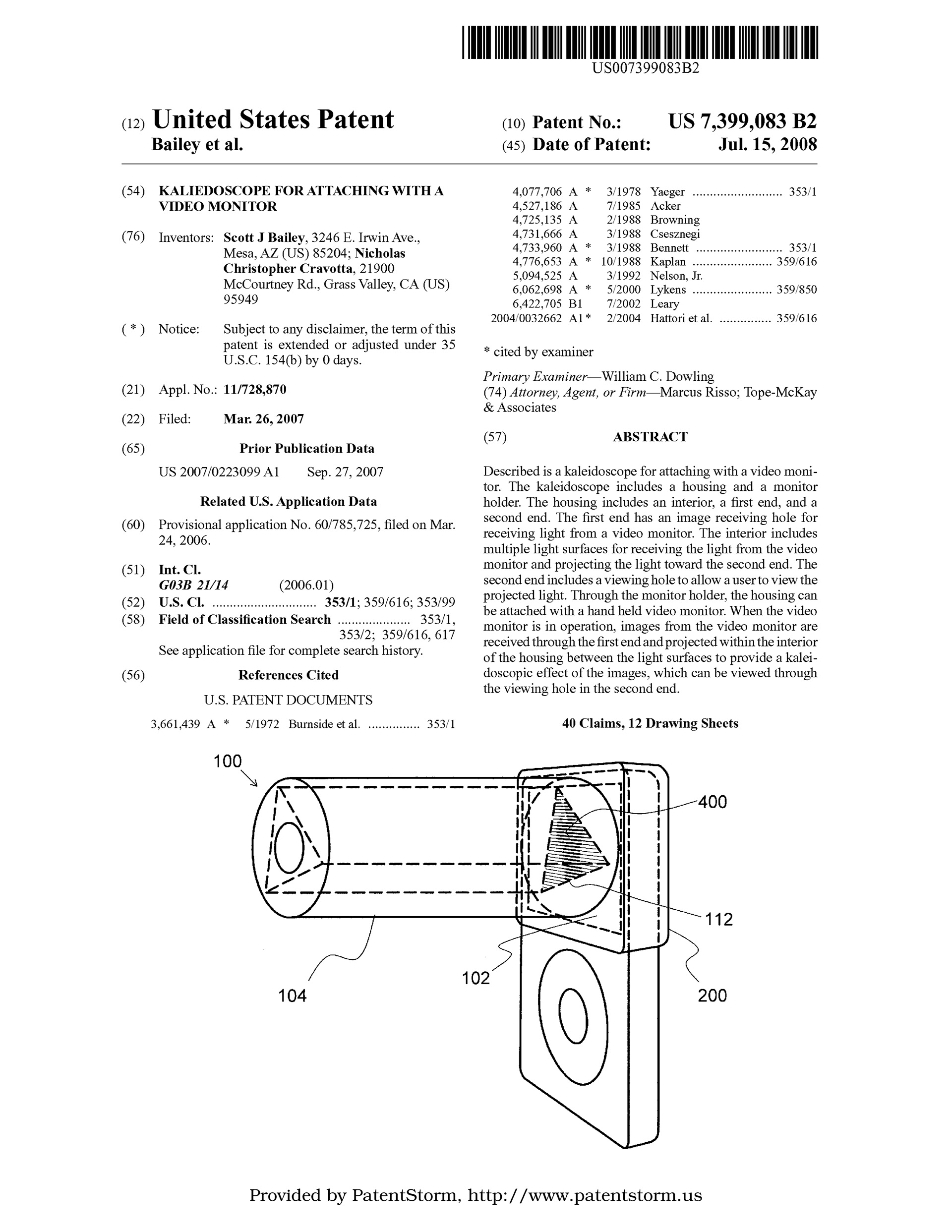 People don't really understand this readily, so I'll try to explain it clearly. The Kaleid-o-vision DEMO is one of my proudest "commercial" accomplishments to date. Before Kaleid-o-vision was created, I created a website to pitch the concept. Every word on the site was written my me. Every video on the site was crafted by me. And if you're not familiar, working on your own stuff can be a real challenge; it's very easy to lose site of things. It's very challenging to Creative Direct your own work. I hope you get a chance to review the Kaleio-o-vision Demo. That hand crafted photoshop website raised $70,000.
At the same time I was pursuing Kaleid-o-vision, I was making momentum on another concept called "Bearbook." Bearbook was a member's only microblog, like Facebook, that catered to "bears," at the time a thriving subculture of the gay community. From 2008-2010, I raised $210,000 for two intellectual properties simultaneously and started developing Bearbook and Kaleid-o-vision. Bearbook was threatened by Facebook and required a name change, which we withstood without going under. Bearbook became Bruizr. The details and iconography of the site were superbly crafted with amazing detail. Things like having a rolling tagline, which changed according to the communication. You'll have to look close if you want to see those sorts of details, but they were all there. It's all history now. It has been expensive to try and maintain them. Screen caps are about it, these days. 
In 2013 I officially closed Bruizr. It still hurts to this day because I am aware of how badly the community needs it. Especially with Facebook agreeing to work with the Atlantic Council, who boasted recently that the American public should be propagandized "for our own good." How many people do you know with a CV that veers off to criticize the Atlantic Council? How well do you understand yourself? Let alone others? I'm Rick. Rick is me.
I'm suing Justin Roiland and Dan Harmon for impersonating me.
Hiring manager these days don't know what to make of me; the world is literally becoming like Idiocrasy. I can tell you one thing for sure, companies are NOT looking for Mensa-level intelligence in their employees, let alone their hiring managers. I know this, because I'd be working more often if they were.
Since closing Bruizr and stopping development of Kaleid-o-vision, I have taken on several fun projects. One was the Production Design Lead for Jeff Bezos' presentation for the Amazon Fire Phone. Another was a way-too-short-lived challenge that I wish I was still working on today called Prizmiq, where I was Creative Directing the development of EVERYTHING the company was developing. The owner called me "startup gold" based on my ability to create anything. The most exciting thing we were working on at the company was not the CEOs primary focus, which might be why it went under. We called the project "slider killer" because it was destined to make all e-commerce image sliders obsolete and replaced with a 3D product viewer. 3D product imagery is the future of e-commerce. Had we had enough funding and runway, Prizmiq might have become one of the biggest players in the industry. Instead it stumbled, distracted by it's own stellar photogrammetry, something it wouldn't take into the next decade, but something it had to master in order to remain a player. Long colorful story if you want to hear it.  
When I'm not working on my own small freelance clients, I make art depending on studio space and how much other things are thriving. I encourage you to check out the project on this site labeled "Original Art - for purchase of license." There's plenty to see. It's like the museum of Scott J Bailey. Thanks for your interest.
Like a lot of my work, this CV is also a work-in-progress. Please take everything with a grain of salt; it is edited periodically. 
​​​​​​​