Corporate Rates:
are negotiable and range from $1000-$2000 per day depending on the length of the commitment.
Small Business & Startup Rates:
are $50 per hour with agreed upon time frame—NEW CLIENTS, THE FIRST HOUR IS FREE!
Project Fees:
send an RFP and I'll let you know if and how I can help. And I'll breakdown how much I think it should cost.
(Last Update: October 29th, 2019 - 5 minute read)
I recently had the pleasure of Dr. Bobby Cook writing the "About the Artist" bio, for me, for a small art show in his gallery at the Copper Cactus Ranch. And I learned later the same day that Bobby co-wrote the song "I believe in love." You remember the song... "cuz I believe in love, I believe in babies, I believe in mom and dad. And I believe in you." Then I helped him perform it by singing backup. Then he made me sing lead on Long Train Running and my life began again.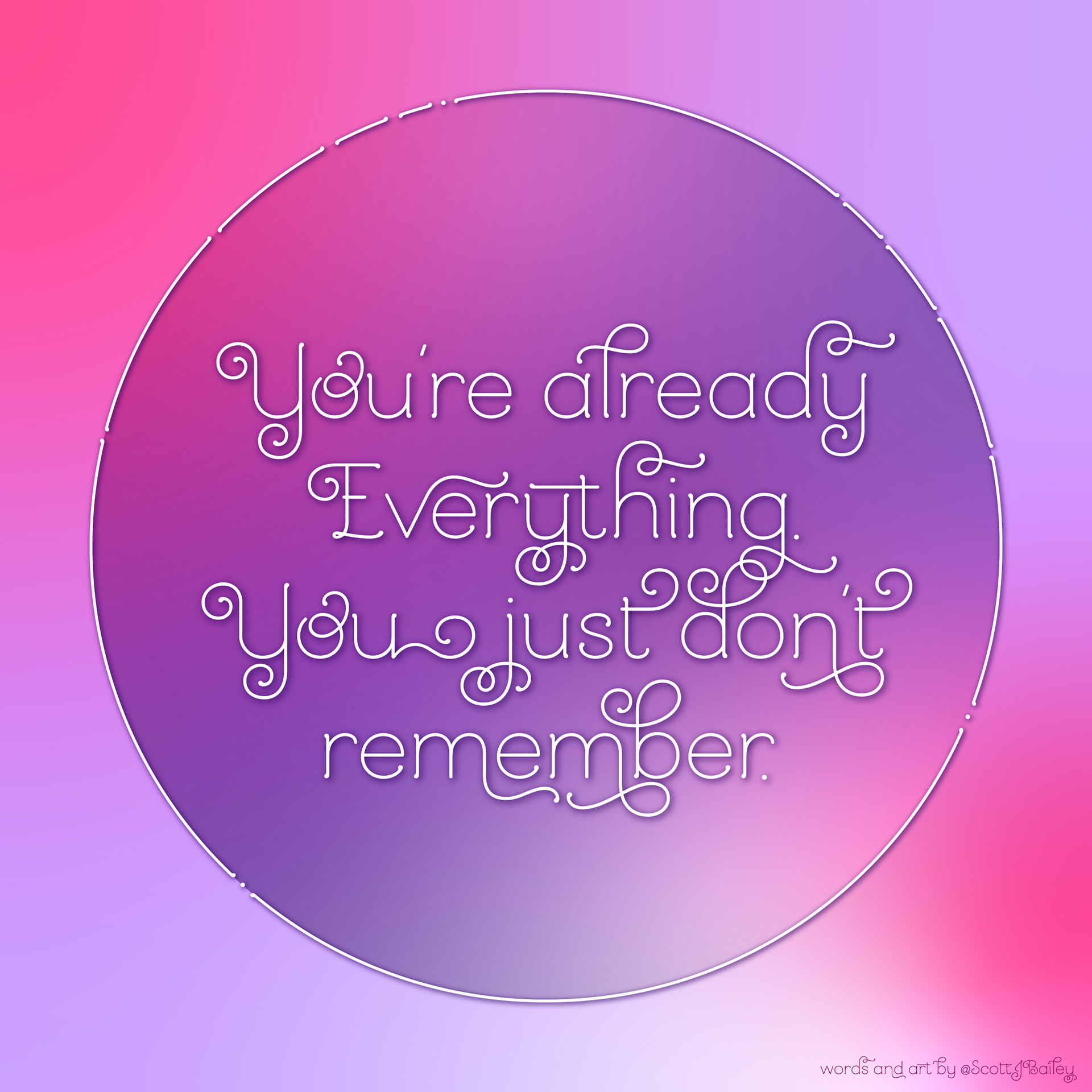 Thank you! I appreciate you taking the time to read this page and learn more about me. I'm treating it like a "status update," which I can rejuvenate as often or as rarely as I like. Hence the date stamp above. This way I can share information like my location, what I'm currently working on, books I'm reading, stuff I'm learning, or whatever else strikes my fancy. At the very least, I hope you find your visit entertaining and artful. If you're not already do so, consider following one or all of my Instagrams:
ONE
.
TWO
.
THREE
.
FOUR
. and here's a new one I've begun working on: 
FIVE
. 
I'm in Phoenix, Arizona at the moment. I've just finished (June) a 6-month graphic design contract for HOAMCO - Homeowners Association Management Company, where I was exploring a full-time job, but decided to pass on the opportunity. I currently have a Pixel-Bear Art Show at the Copper Cactus Ranch, Men's Retreat in Queen Valley, AZ. I'm also helping them out with their graphic needs, photoshopping different cosmetic possibilities on the exterior, plus social media and event graphics and copywriting. Plus I've been helping with the heavy lifting, like replacing an eight person hot tub and hauling the old one to the dump.
I just finished reading Yuval Noah Harari's Sapiens, a Brief History of Humankind and Annaka Harris' Conscious, a Brief Guide to the Fundamental Mystery of the Mind, both of which I highly recommend. I'm currently reading 21 Lessons for the 21st Century, also by Yuval Noah Harari.
My reading selections stem from a personal obsession I have with consciousness. Below is a graphic I created (wrote and designed) in an attempt to express material reality as I currently understand it; this is also known as "panpsychism."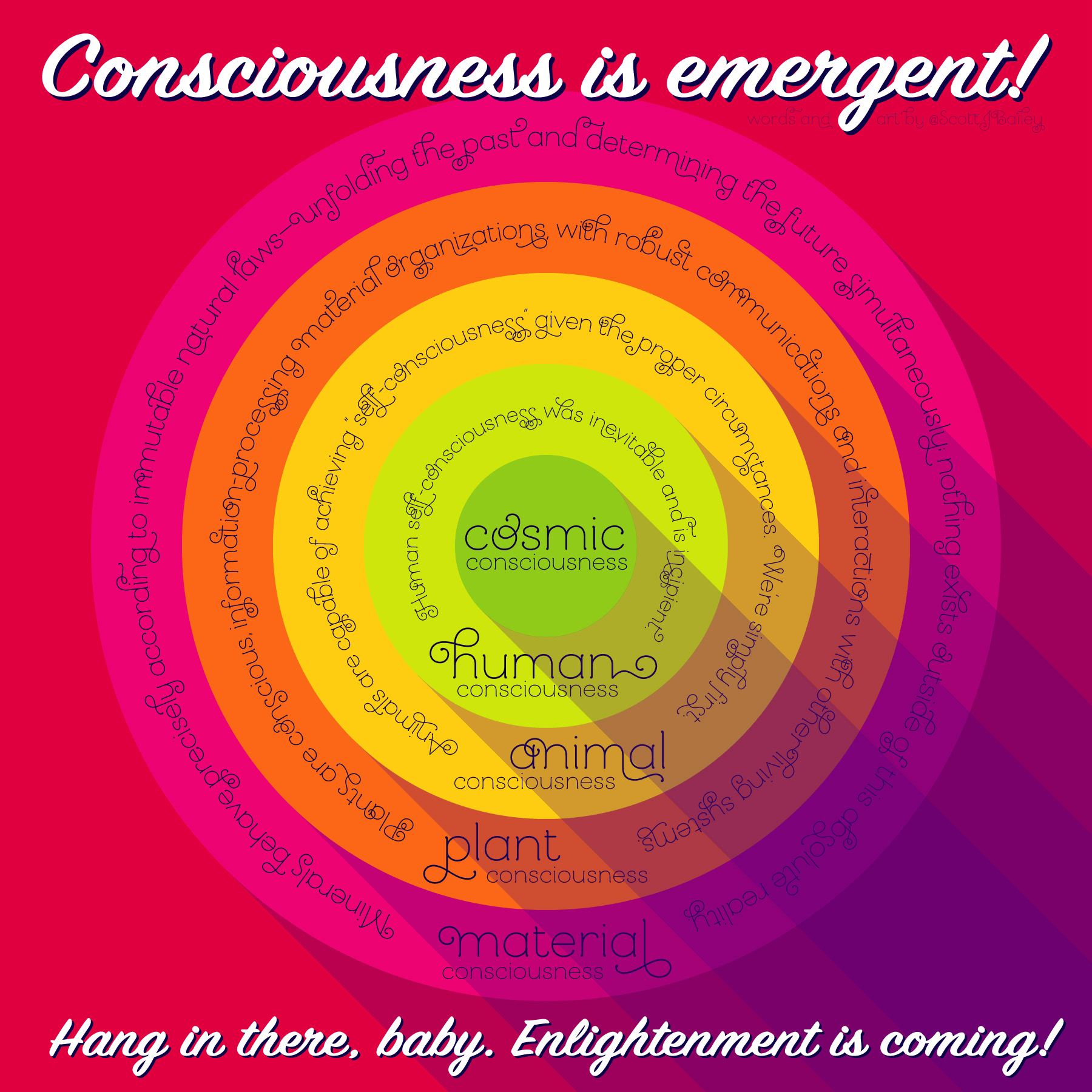 I'm currently writing an essay titled The Origin of Consciousness, which establishes a theory around the circumstances which caused the emergence of self-awareness in the human animal. Yes, I have a theory that establishes how, when and why self-consciousness appeared in the human species.
I'm an atheist and a buddha; I have 'escaped my self-incurred minority' (Immanuel Kant, Answering the Question: What is Enlightenment, 1784). If you'd like, you can read a paper about that here. Fair warning, if you're not tolerant of "recovering baptists" and your not aware of the psychological damages caused by theist ideologies, you might not appreciate my honesty. I love what Eric Weinstein has to say about excellence and genius and I think it will help shed some light onto me and my sporadic, bizarre work history. Also why former employers who've fired me are still personal references. (I've caused the link to begin at a specific point, but I encourage listening to the whole interview if you have the time.)
Being an independent thinker and a Mensa myself, makes me a solid problem solver. But it also makes me a good future-problem identifier. I like solving problems alone or on small teams. I prefer short term projects (2-6 months), but I am currently considering long-term roles based on the fit and pleasure I will derive from the work. 
I thrive best in environments where a number of problems need to be solved in a variety of ways. I also do very short-term projects for start-ups and smaller businesses, both project based and hourly, whichever they're most comfortable with. I grasp challenges easily and I enjoy learning new things, which helps me hit the ground running.
Please use the references link at the top of the pages here to talk to real people about me. Next to that is a link to a bullet point resumé.
I hope you enjoy having a look around. 
Incidentally, a fan of my first employer in NYC in 1991, Mad Dogs & Englishmen, created an exhaustive retrospective of the firm and its work. My fingerprints are on some it. 
Here's the MD&E link!!