Humanly is a tech startup that was launched in 2019 by someone I now consider a friend, Prem Kumar. Prem was a friend of my last CEO and boss at Prizmiq and he was one of Prizmiq's advisors. Now, with his own startup, he reached out to me for help, requesting I create a document like I had created for Prizmiq a few years prior—an Executive Summary—for the purpose of raising capital. Prem had a color logo and some typefaces they had chosen for the brand. Everything since then, with the exception of social media and 2021 marketing, was designed and possibly written by me. No kidding.

Several months after creating the Executive Summary, Prem came back with the news that it worked; he had raised 400K to get started. He had also hired a "less expensive" designer to create Humanly web pages, but they were problematic. They wanted to expand from a single page to multiple pages, and I fixed everything. I wrote copy and designed infographics, I wrote chatbot experiences and I designed their chatbot icon. . I rewrote, and designed, all of the current existing pages, including the

blog

, established the new brand's graphic standards and provided a series of universal assets for Instapage "landing pages" and Canva "content creation" for the marketing team.

As with many startups, Humanly's needs were random and varied; over the next year, I would write and design everything from chatbot UX to specific chatbot experiences, and from pre-visualized new product experiences to sales collateral PDFs. I'm also proud to say I designed the company's high-profile "smiley" chatbot icon. I'm NOT responsible for Humanly's Instagram, it has been wholly cultivated since my departure.
How Humanly appears on my Resume:
Humanly.oi – a power suite of automated technologies for hiring teams   
May 2019–January 2021 — Head of Design [contract] 
· Wrote, designed, and produced everything from the startup's initial executive summary to its website, blog, presentations, some product design, PDF sales collateral, and a brand style guide.
· Surfaced the core product chat interface, including the high-profile "smiley" chatbot icon, and additional custom iconography
· Wrote, designed, produced a variety of materials that support the marketing and sales teams
· Designed and produced assets and graphic standards for marketing to use web services Instapage and Canva to produce their own materials
· Scope and explore future products and services and their potential User Experiences
· Shareholder for sweat equity
(I'm NOT responsible for Humanly's Instagram, it has been wholly cultivated since my departure.)
Expanding and Repairing Humanly's web pages
In addition to resolving messaging issues with better copywriting and refined designs, I also supported the Marketing team by recreating the pages as editable containers using Instapage. Now, the biz dev team is developing web pages without bothering the development team. Before and after thumbnail images are shared below, for both the pages themselves and some of the infographics used on the pages. I encourage you to visit the site for a complete view of my work. 
http://humanly.io
Refined and more relevant infographics, below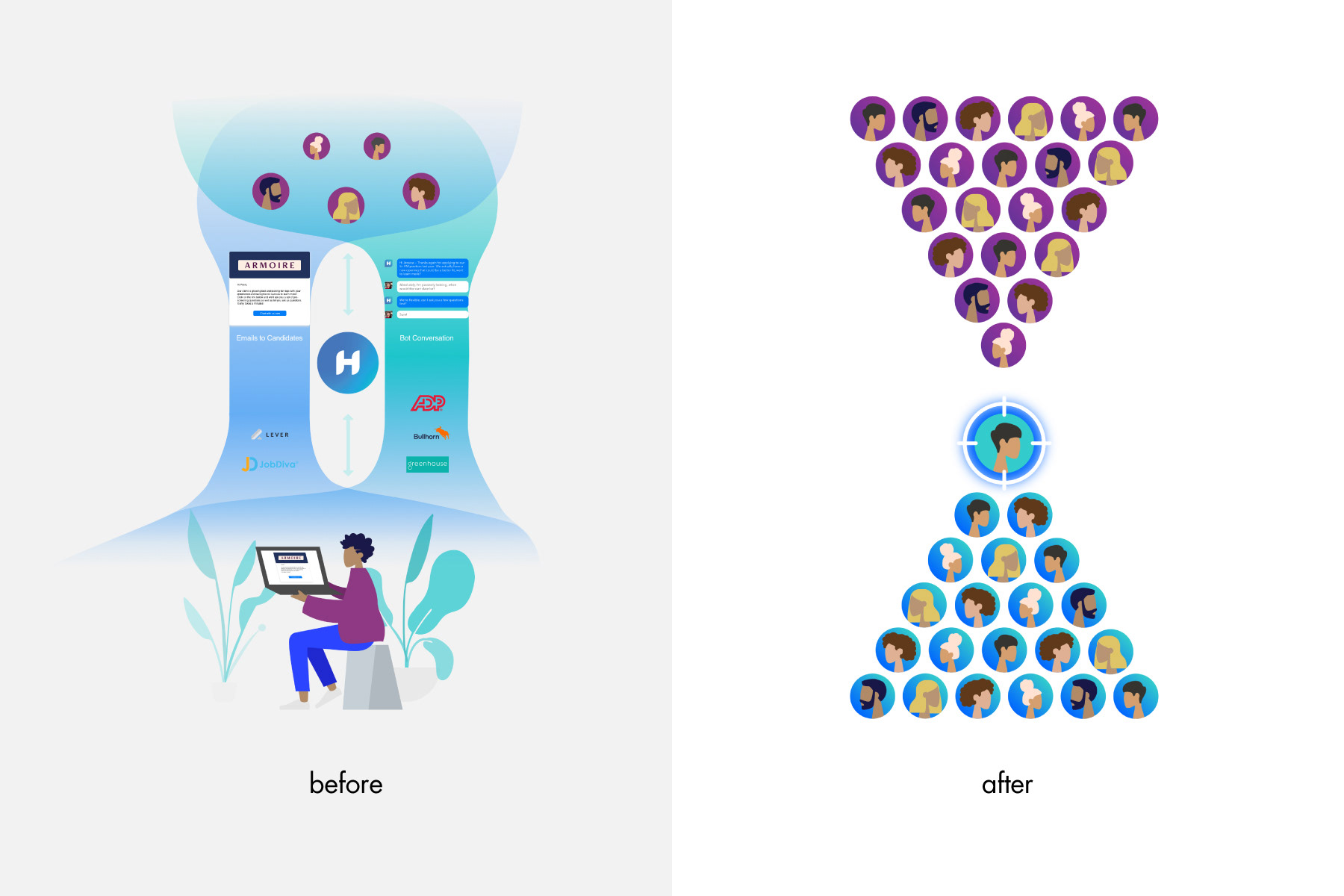 Humanly's next big request: the Humanly Blog
Understanding that our future would depend on successful SEO, Prem knew we would need a solid blog to establish our expertise. I designed the blog within the parameters provided by "Ghost." I wrote the line in the masthead "The conversation begins with Humanly." I designed the different subject's mastheads, and ultimately created and uploaded assets to "Canva" so team members could create their own mastheads, as needed. (I also designed the 'Smiley' icon for our chatbot experience, which we later decided to use here.)
http://humanly.io/blog
Humanly's next request: Visualize Candidate Experience Reviews
After an automated screening, candidates are asked to review the chatbot experience. Prem decided the ratings were so good, that even with the occasional 2-star rating, they're good enough to display on a webpage from a live aggregate. (that's a long-term goal, in the meantime, we upload a CSv with ALL of the ratings, so the page just scrolls and scrolls and scrolls. 95% of the reviews are 4 or 5-star. The colorways, the simple "cards," with or without accompanying text, the rounded point star, and of course the page as a whole are all designed by me. The link below will take you to the page.
Humanly's next request: visualize our Chatbot Experience and design a Chatbot Icon
While I can easily be credited with designing some of the Humanly products, I don't claim any of it. Mostly I just helped the developer over whichever hurdle he was facing at the moment. When it came down to the chatbot interface, I supplied the CTO with comps, possibilities, and suggestions, then he picked and chose which to create. I'm okay with where things ended up, though they don't reach the level of polish they would, had I actually been the lead. I am extremely proud of the Chatbot Icon. The exploration was short, but the solution is the bomb. If you don't agree, we probably won't get along. 

The graphic below will show you the reasoning behind the Smiley. His eyes were inspired by the ellipses we experience when the person we're chatting with is typing. And while #1, on the left, has become our chatbot icon, we are aware that at times, #3 and #4 could be used to indicate a slightly different personality in any given moment. As shown in the sample below.
Stay tuned, the above is all being fine tuned and there is more to come!!